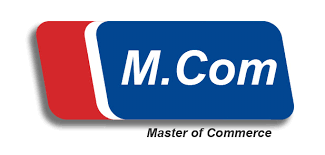 M COM
Master of Commerce is a postgraduate academic degree which is awarded after successful completion of a two years program. M com covers core competencies in accounting, finance and e-commerce. This innovative program is designed for candidates intend to pursue their career in the fields of accounts / finance and are either at the beginning or mid of their professional career.
Course Objective for M COM
This course provides you with the concepts, models, frameworks, research and analytical skills to enable you to understand strategize and deal effectively with complex business challenges.
This course will prepare you for the global business environment. It will build your understanding of sustainability (commercial, environmental and people oriented) in the business world and your skills in leadership, management, business decision-making and risk taking in a constantly changing business environment.

Eligibility for Admission
BCOM
Duration
2 year
Fees of M COM
Curriculum
Course Structure: Semester 1
Managerial Economics
Statistical Analysis
Organization Theory and Behavior
Business Environment
Computer Application in Business
Course Structure: Semester 2
Accounting for Managerial Decisions
Financial Management
Human Resource Management
Marketing Management
Management Information System
Course Structure: Semester 3
Accounting Thoery and Practice
Strategic Management
Corporate Law
Principles and Practice of Taxation and Indian Tax system
Research Methology
Course Structure: Semester 4
International Business
Quantitative techniques for business decisions
Securty Ananlysis and Portfolio
Marketing Research
Dissertation
VIVA-VOCE
Benefits Of Mcom
Master of Commerce (M.Comm) is a postgraduate degree focusing on commerce, management and economics related subjects.
The curriculum is usually concentrated on one subject area such as accounting, economics, finance or marketing.
With an M.Com, you can apply for jobs in all industries in Corporate Finance or you can apply to Banks, Investment Banks, Equity Research and Advisory companies, Mutual Funds, Stock broking firms etc
. It will help to do a professional course in Finance to improve your prospects such as, CFA, ICWA etc. Distance and flexible learning options can also be explored
WE apply for MCOM please fill the application form and upload documents